How to create sustainable, eco-friendly hair salon furniture
Combining sustainable hairdressing salon furniture with the use of eco-friendly products and environmentally friendly work habits is what good you can do for the future of the planet. Hair salons have for too long contributed to a wrong modus operandi, characterised by plastic abuse, excessive water consumption and electricity.
Growing awareness of the climate emergency, pollution and the scarcity of resources has reversed trends and given rise to the possibility of creating eco-sustainable salons. The décor plays a key role, it is an integral part of the experience you want to convey to your customers, it is a reflection of the mission of your business. It tells a story, the story of your salon.
We all can – and must – do our bit for the environment, so as well as looking after the wellbeing of our clients, let's also start looking after nature and furnish the salon in a way that respects it.
Green hair salon interior design: how to make a hair salon eco-friendly
The world of interior design is very sensitive to sustainability, especially in recent years. Raw materials such as wood, stone, or recycled materials such as resins and reusable plastics are back in fashion. In the case of hairdressing salon furnishings, we find many eco-friendly solutions and sustainable furniture functional to the activity, which help to green the salon.
To decorate a salon in an eco-friendly way, it is necessary to choose objects and furniture with a low environmental impact, and to design spaces that take advantage of natural light and fresh air, thanks to an intelligent arrangement of windows.
Let us look at some tips for furnishing or renovating a hairdressing salon while respecting the environment.
Consider using recycled materials for furniture
Recycled hairdresser's furniture are design objects made from recyclable aluminium, for example, used for bases and frames of armchairs, stools and chairs; or from plastic or fabrics for upholstery and covers, from recycled and discarded PET.
An example can be found in the Eco Fun product line, which is colourful, youthful and obviously sustainable. The upholstery of the armchairs are all derived from the processing of plastic bottles, which have been given a second life, instead of seeing them floating in our seas or on roadsides polluting the environment.
In addition to recycled aluminium bases, depending on the atmosphere you want to recreate in your salon, you can use plywood for furniture or furnishings such as shelves and tables, which give a fresh and natural look to the space, great for relaxing clients and creating a green and sustainable space.
If, on the other hand, your salon has a more pop style, fibreglass washbasins, such as those in the Alu Green Collection, made entirely of recycled or recyclable materials, are ideal.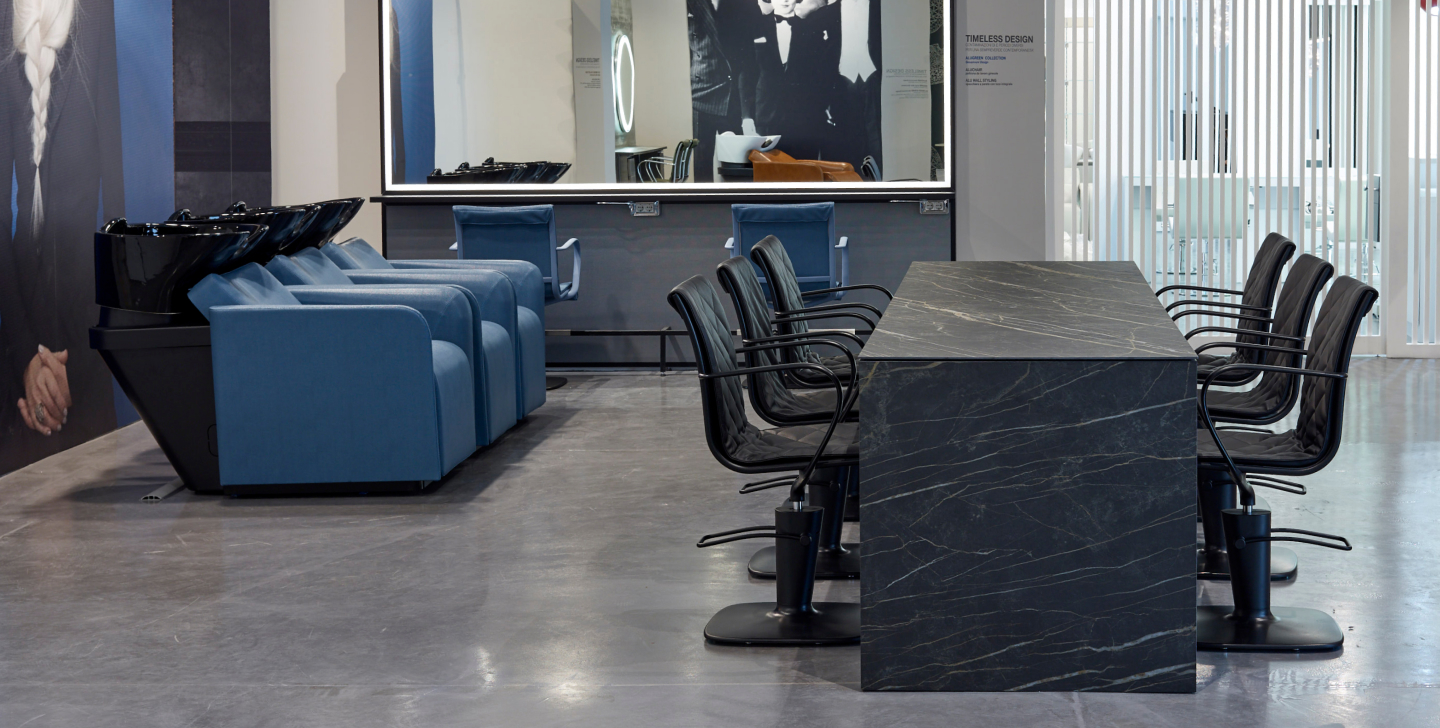 The choice of materials for living room furnishings
An important role in insulation and heat loss is played by floor and wall coverings.
You have 2 options for renovating your salon, starting with the floor material:
ceramic: at Maletti we collaborate with IRIS, a leading company in the production of ceramics, which has created Active Life, the first collection of floor and wall coverings made entirely of a photocatalytic and eco-active material which eliminates up to 100% of organic and inorganic pollutants and bacteria.
wood: if you have chosen to give your salon a more natural look, wood is the material for you. Using flooring from safe regional forestry with certified regrowth, free of harmful agents, it is the perfect combination with salon furniture with a low environmental impact, as in the Green First range.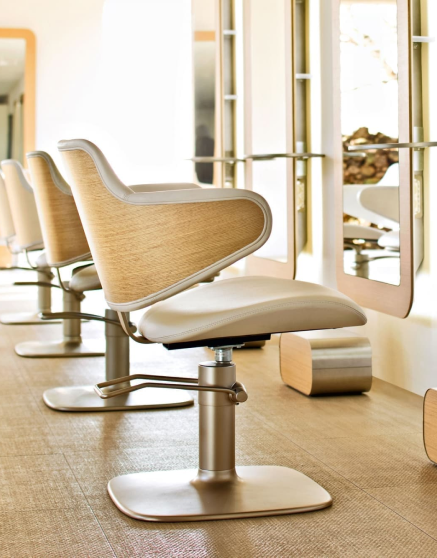 For the walls and cladding, on the other hand, rely on a radiant system to heat and cool the room, so the salon will have greater thermal comfort and lower energy consumption. A panel that heats in winter and cools in summer, optimising acoustics, is called Climacustic and is produced by the Fantoni Group.
Sustainability is not only about materials, but also about the use of water and the operation of hydraulic components
With an average of 20 customers per day, over the course of a year – for an average salon – water consumption is estimated at around 540,000 litres. Just think how much water is wasted per wash.
This, we at Maletti know well, which is why the patented systems for the headrest washers guarantee a reduction in water consumption of 30 to 70% per wash, with a reduction in water use of up to 6/7 litres per minute. In addition, the application of a jet breaker saves up to 356,000 litres, or 66% of the usual water consumption, in one year. Thanks to the pressure, air and water are mixed to provide an abundant jet, but light to the touch and without splashing.
Furthermore, for hydraulic components, pumps and chair slides, we always recommend the use of biodegradable oils to reduce environmental impact and disposal costs.
Hairdressing salon furnishings with plants and intelligent lighting
A self-respecting green hair salon décor cannot fail to consider the use of real plants, energy-efficient windows and LED lighting.
The use of plants is consistent with the sustainable furnishing style, making the salon a healthier and more natural-looking space, with improved air quality and a touch of colourful vibrancy that does not detract from any kind of design.
A hairdresser who wants to be eco-sustainable must also pay attention to saving energy. Lighting for a salon is very important, natural light is best, but not everyone has the possibility of having large windows exposed to the sun. The solution comes from low-energy lamps that can be installed throughout the salon, or in the mirrors, as you can see in the project realised for Corti Hair Diffusion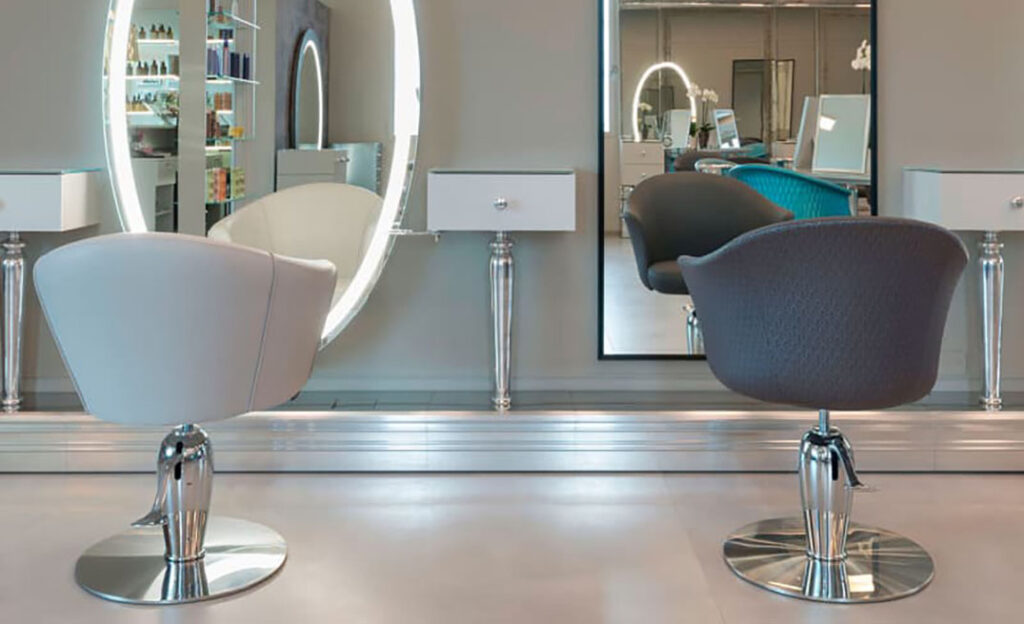 Choosing LED spotlights or halide lamps can save up to 30%. Or furnish your living room with energy-saving CFL lamps, which are 4 to 6 times more efficient and more durable.
How to minimise the environmental impact of a hairdressing salon? The eco-tips.
The ideal hairdressing salon from an ecological point of view is one built according to sustainable architecture, which includes the adoption of facilities, infrastructure, furnishings and accessories for maximum energy saving. But also the one that reduces waste, as it avoids creating it.
Limiting the use of plastic is already a first step towards making salons more environmentally sustainable, but we can do much more.
Fortunately, hairdressing salon furnishings are increasingly moving in the direction of eco-sustainability, to create what will be the hairdresser of the future, more environmentally friendly and attentive to the needs of people and nature.
We have a social responsibility to protect the beauty of our planet, as well as that of our customers.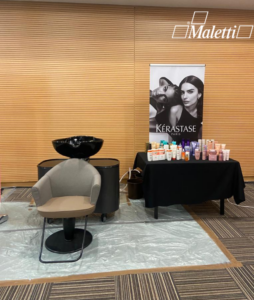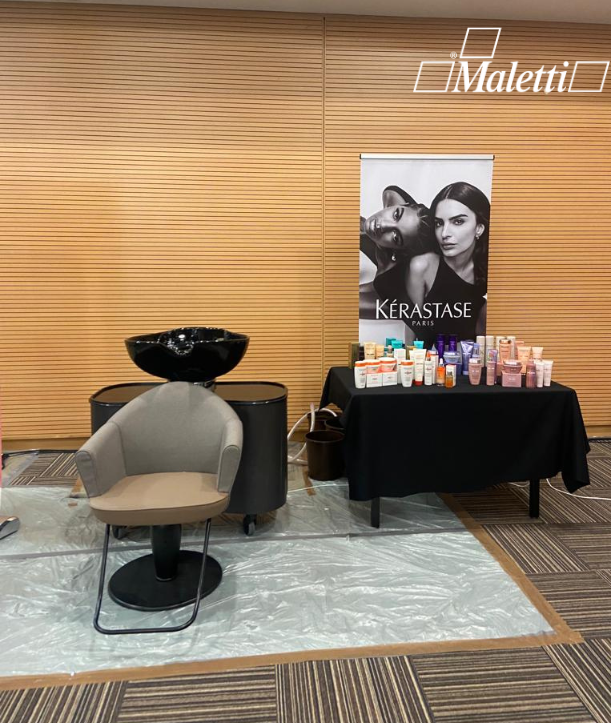 Compagnia della Bellezza hosts Maletti as its partner during the master's course organised by the Academy.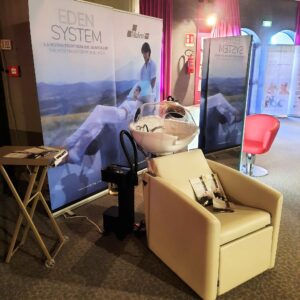 Mediaset's new TV format dedicated to beauty professionals was also presented in Tuscany.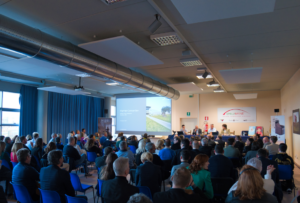 The 2023 edition of the Partner Convention was held on Saturday 18 March at the Maletti Group headquarters in Scandiano.